Dr. J. Q. Adams has spent his entire academic career studying and teaching about multicultural education and diversity. His degrees include a bachelor in philosophy degree from Michigan's Grand Valley State University, a master's degree in alternative education from Indiana University, and a doctoral degree in educational psychology from the University of Illinois Urbana-Champaign. He spent more than 25 years at Western Illinois University (WIU) where he created and taught undergraduate and graduate multicultural courses and was recognized for excellence as a teacher and a mentor. He has served as acting director of African American studies and as director of the educational opportunity program, as liaison for Golden Apple Scholars, and on the Illinois State Board of Education's Teacher Certification Board.
Creating a Legacy of Diversity Education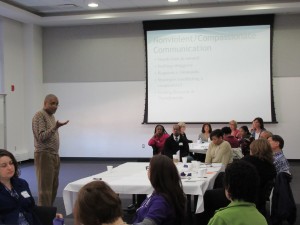 Dr. Adams developed and taught three editions of the PBS course Dealing with Diversity, a course taught at over 150 colleges and universities across the United States. He co-edited the accompanying comprehensive anthology of works by notable scholars in the field. He also co-wrote a diversity-in-education grant awarded to WIU for ten consecutive years and created a ten-hour DVD course that provides an in-depth exploration of teaching and learning about diversity in the United States.Dr. Adams has served as a multicultural awareness consultant for school districts, principals' organizations, health care providers, social service agencies, and police departments, as well as the Burlington Northern and Santa Fe railroads. He continues to offer consulting services, conference presentations, and workshops that are based on his extensive experience and his ongoing research.For additional information on Dr. Adams' offerings and availability, please visit the services page.